Best Tractor Implements for Homeowners | Kibble Equipment
Owning a piece of land is a wonderful thing that gives you plenty of opportunity for growth and development. From treating grass and weeds to paving gravel roads or even adding a deck, there are many possibilities but you need the right tools to get there. Getting a tractor is a great start but to get to the finish line you're going to need the right implements. If you are a homeowner or own a large piece of land, you will find that having these implements is essential.
Front-end loader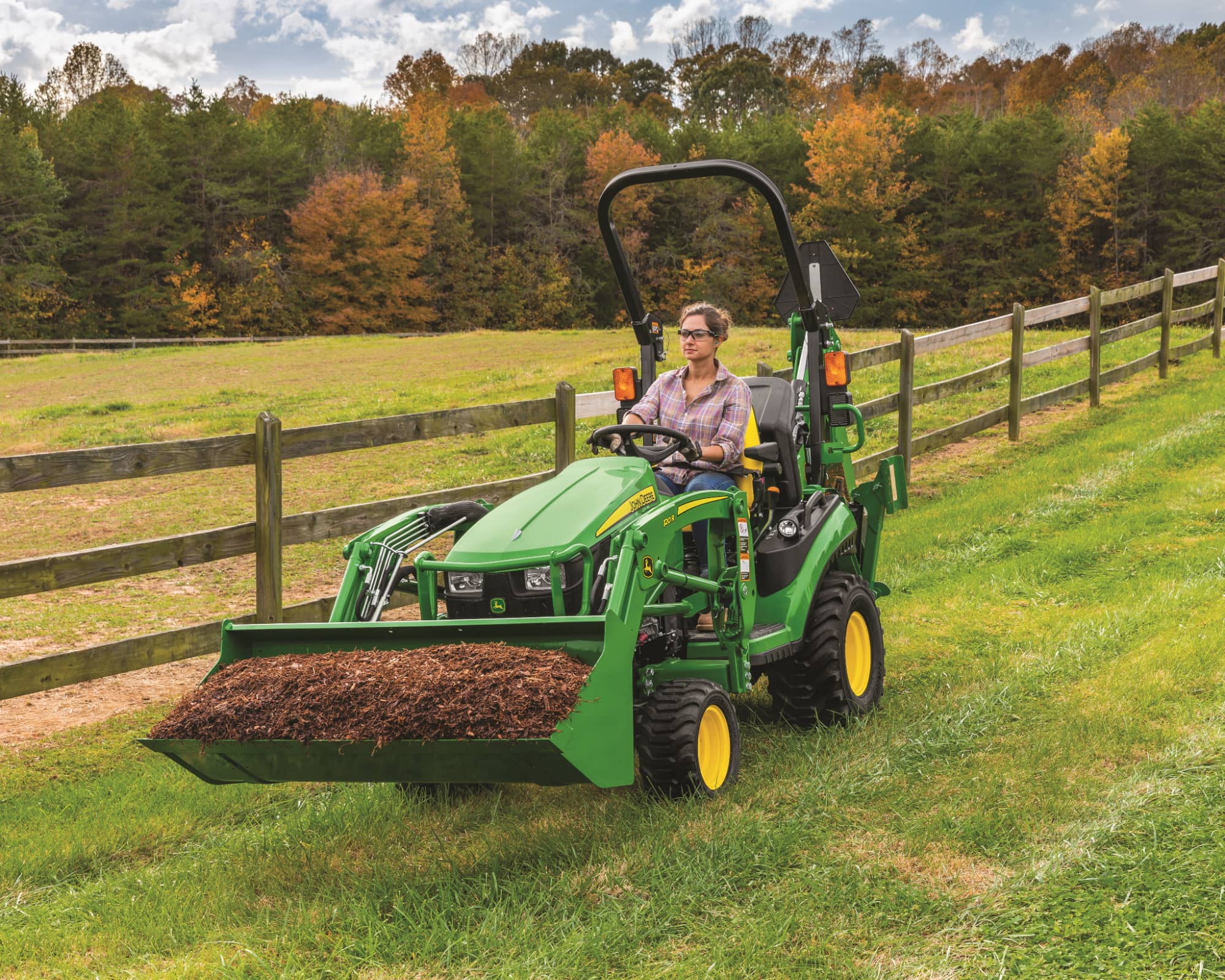 A front-end loader with a bucket should be the first implement you scratch off your list. This essential tool can serve many purposes but the main purpose is to load, transport, and dump materials. This can be useful for moving dirt or soil, rocks, or firewood. Adding this to your tractor will make you more productive in less time so you can move on to other tasks.
Grooming mower
As a homeowner, the look and cut of your grass can make or break the look of your home. Always make sure your grass complements your property by having a nice clean cut. You can do this by attaching a grooming mower to your tractor. John Deere offers economy, standard-duty, and flex-wing mowers so you can choose one that matches your terrain and budget. If your land requires heavy-duty mowing for tall grasses, weeds, and brush consider getting a rotary cutter for a more efficient job.
Box Blade
A Box Blade is another great tool to help with the aesthetics of your property. Box blades make sure land is even and level. This can be useful for leveling gravel paths or driveways or even leveling out soil or dirt for a garden or future project. This is possible due to scarifiers in the box blade that break up the hard ground beneath it.
Power Rakes
If you want to make sure your lawn is both visually pleasing and healthy, power rakes are a good investment. Power rakes improve soil surfaces by cultivating, grading, and leveling the soil. They can also pick up debris on your soil or grass such as rocks, thatch, or leaves. They do this by striking soil with carbide teeth or a roller. The teeth also aid the soil by leaving a fracture pattern that helps the soil retain moisture. This is perfect for preparing a seedbed.
Post Hole Digger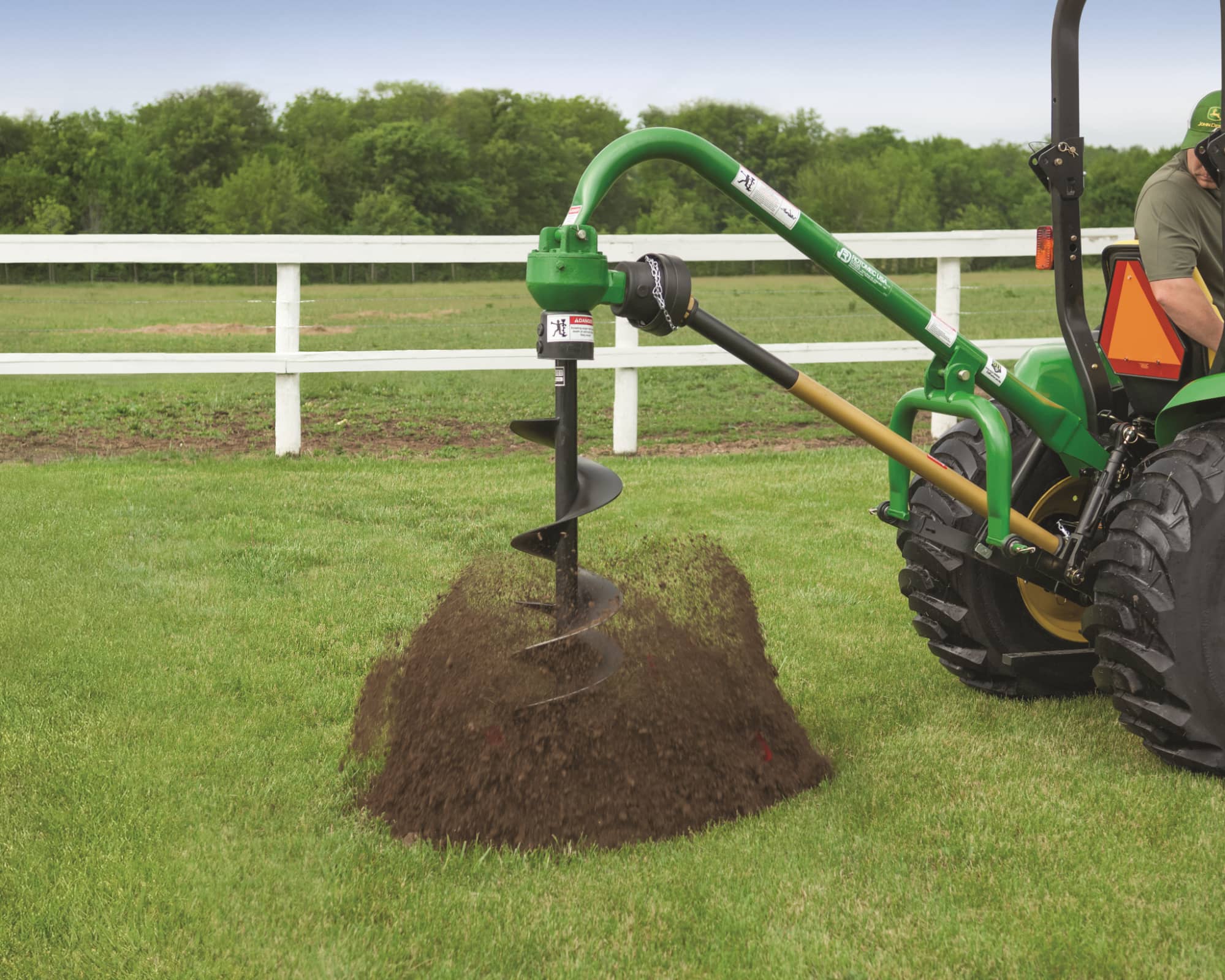 If you are thinking about making additions to your home such as a fence or installing a deck you need a post hole digger. This implement makes these jobs much easier by digging precise holes in little to no time. The post hole digger uses a small auger to dig these holes deep and quick and comes with an auger position handle so the operator can place the auger in the exact position necessary.
Rear Blade
A rear blade is a great tool to have due to its versatility. This implement is simple yet highly effective in completing several landscaping tasks. Its adjustable angled blade can be put to use for road repair, leveling surfaces, ditch digging and more. It can even be useful in the winter for snow removal.
There are plenty of other Frontier implements available to pair with your John Deere tractor but these implements make an excellent starter pack. With the right implement, the possibilities for your home are endless- what will you do with this power? For more information or questions about what implement fits your job, contact us at Kibble Equipment and we'll help you get one more step closer to your dream home.