Feature Highlight: What are Twin Touch Controls?
Do you ever feel like operating a tractor can be more complicated than it needs to be? You're not alone. That is why select John Deere tractors and lawn tractors feature the renowned Twin Touch foot controls. Twin Touch foot controls are pedals that allow the operator to control the speed and direction of their vehicle effortlessly. The Twin Touch pedals include one forward pedal and one reverse pedal. The pedals are paired with a hydrostatic transmission that gives the operator infinite ground speeds allowing them to match their speed to their job. This can come in handy for various applications and make for a smoother ride.
The TwinTouch controls hold key advantages over competitors. Instead of using easy-to-use Twin Touch pedals, competitive hydrostatic tractors use a treadle pedal. This requires using both toe and heel to operate, which can lead to increased operator fatigue. Twin-Touch foot controls decrease chances of fatigue by only requiring a light touch to operate. Functions like this allow you to "inch" the tractor forward or backward, great for things such attaching implements.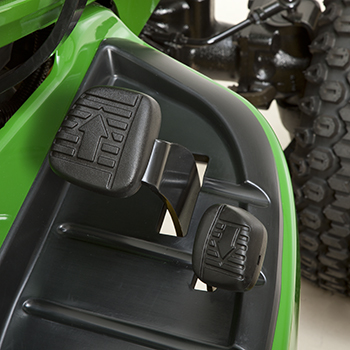 When you're ready to go at a steady speed, sit back and enable the cruise control feature. To enable this feature, lift up on the cruise lever and hold until the foot is removed from the forward pedal. If you need to make an emergency stop, end the cruise control by pushing on the brake pedal or the forward pedal.
The hydrostatic transmission has its advantages as well. HST doesn't require clutching, making fast and easy direction changes possible. It also comes equipped with a transmission oil cooler which cools the oil and leads to longer transmission life. The hydrostatic transmission also provides automatic precautions for safety. The tractor will only start with the range in neutral. Also, the engine will shut off if the operator leaves the seat.
The TwinTouch foot controls are available on the 1 Series, 2 Series, 3 Series, 4 Series tractors and the X300, X500, and X700 lawn tractors. If you want to test them out yourself come see us today at any of our locations in Minnesota or Iowa!
Find your nearest Kibble Equipment dealer