John Deere 1025R for Sale in Iowa | Kibble Equipment
Iowa Homeowners... Meet the 1025R
Designed to be the best of the best, the John Deere 1025R knows how to get a job done. From chores around the yard to commercial jobs around town, the 1025R sub-compact tractor features durable components that work smarter than the rest.
We know what you're thinking. If the John Deere 1025R performs so well, then it must fall short somewhere. What sets the 1025R apart is its ability to outperform in every area: comfort, operating simplicity, implement hookup, reliability, and efficiency.
Shop the John Deere 1025R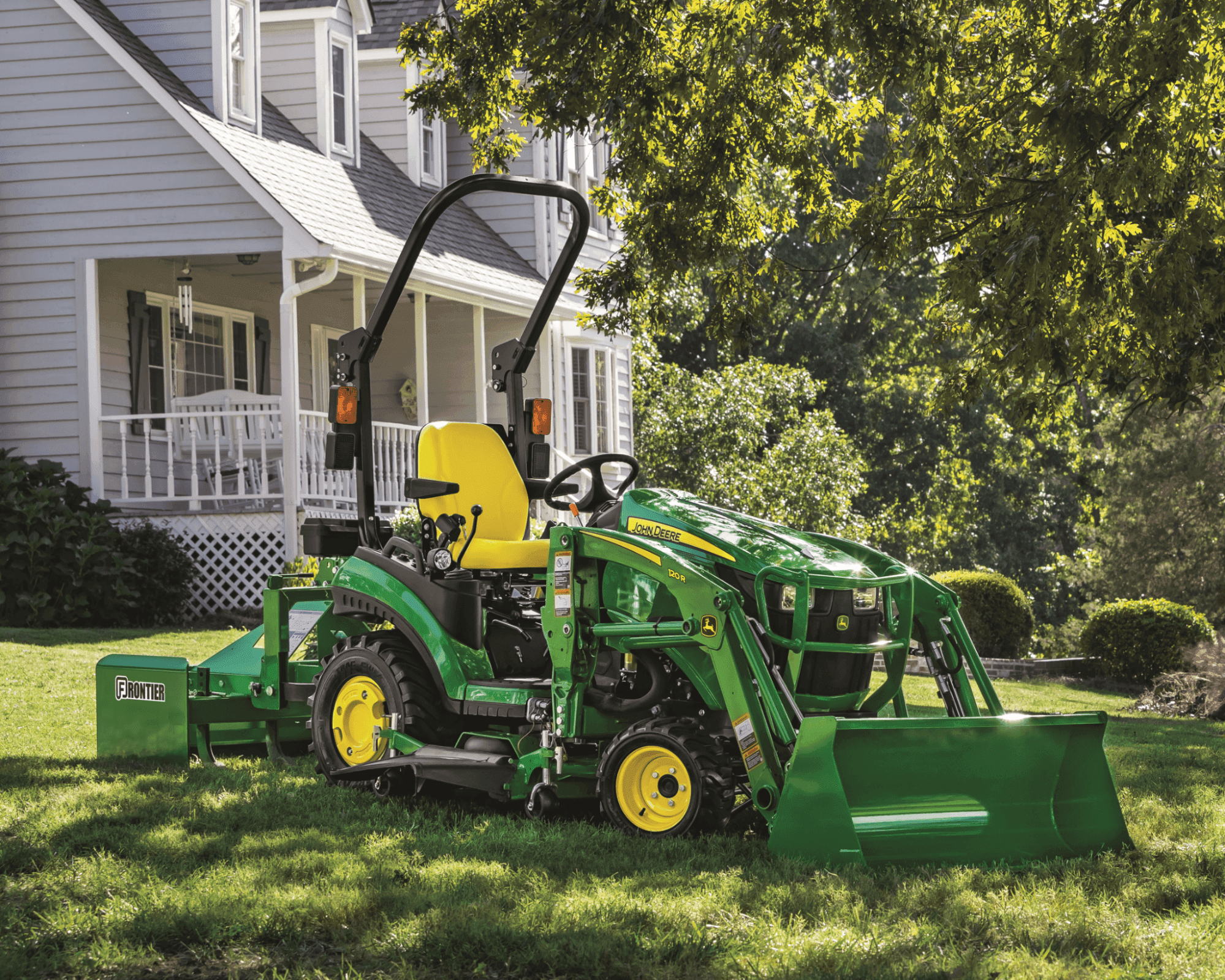 Common Questions About the John Deere 1025R
What are the specs on the John Deere 1025R?
| Specs | Specs | What does this mean? |
| --- | --- | --- |
| Engine Horsepower | 23.9 hp | With almost 24 horsepower under the hood, the John Deere 1025R is capable of offering a good amount of power. This engine can handle most any job around the land. |
| PTO Horsepower | 17.2 hp | The John Deere 1025R can take on any PTO implement that requires less than 17.2 hp. Because many of John Deere's implements are made to fit the 1025R, you'll still have plenty of quality options to choose from. |
| Hitch Type | Limited Category 1 | The limited category 1 hitch is better suited for implements that are lower to the ground. Because John Deere creates implements that are specifically designed to fit the 1025R, you'll have several available implements to choose from. |
| Transmission | Hydrostatic- 2 Range | Similar to driving a car, the hydrostatic 2 range transmission features two-foot pedals and infinite ground speeds. |
| Cab options? | Yes | With the ability to protect the driver from rain, wind, and snow, the 1025R's optional heated cab provides excellent visibility and removable doors. |
Learn more about the John Deere 1025R's specs and features
What jobs can the John Deere 1025R Do?
The real question is what can't it do? This small tractor does a lot more than its name suggests. We already talked about the power found under the 1025R's hood, but what exactly can this power do? Let's take a closer look at some of the chores our 1025R customers like to take on.
Mow the yard with a DriveOver AutoConnect Mower Deck
Get rid of brush with a rotary cutter
Dig up trenches and ditches with a backhoe
Transport firewood, dirt and other materials with a loader
Level out a gravel driveway with a box blade
Prepare your garden with a tiller
Did your to-do list just grow just a little longer? Because of the 1025R sub-compact's low price, small size, and wide list of capabilities; the John Deere 1025R is perfect for homeowners, gardeners and landscapers here in Iowa.
How much land can the John Deere 1025R handle?
Perfect for large yards and smaller pieces of land, the John Deere 1025R tractor can handle anything up to about 3 acres. While it depends on the amount of active land being managed and the tasks being performed, you can ask our experts for a personalized recommendation based on your land.
How much is the John Deere 1025R?
Are there any tractor packages available for the 1025R?
At Kibble Equipment, we offer a 1025R Tractor Package that includes a 120R Loader, R4 tires, and an AutoConnect Mower Deck with mechanical lift. By buying this bundle, you are able to save money and experience a seamless shopping experience by purchasing our most popular attachments.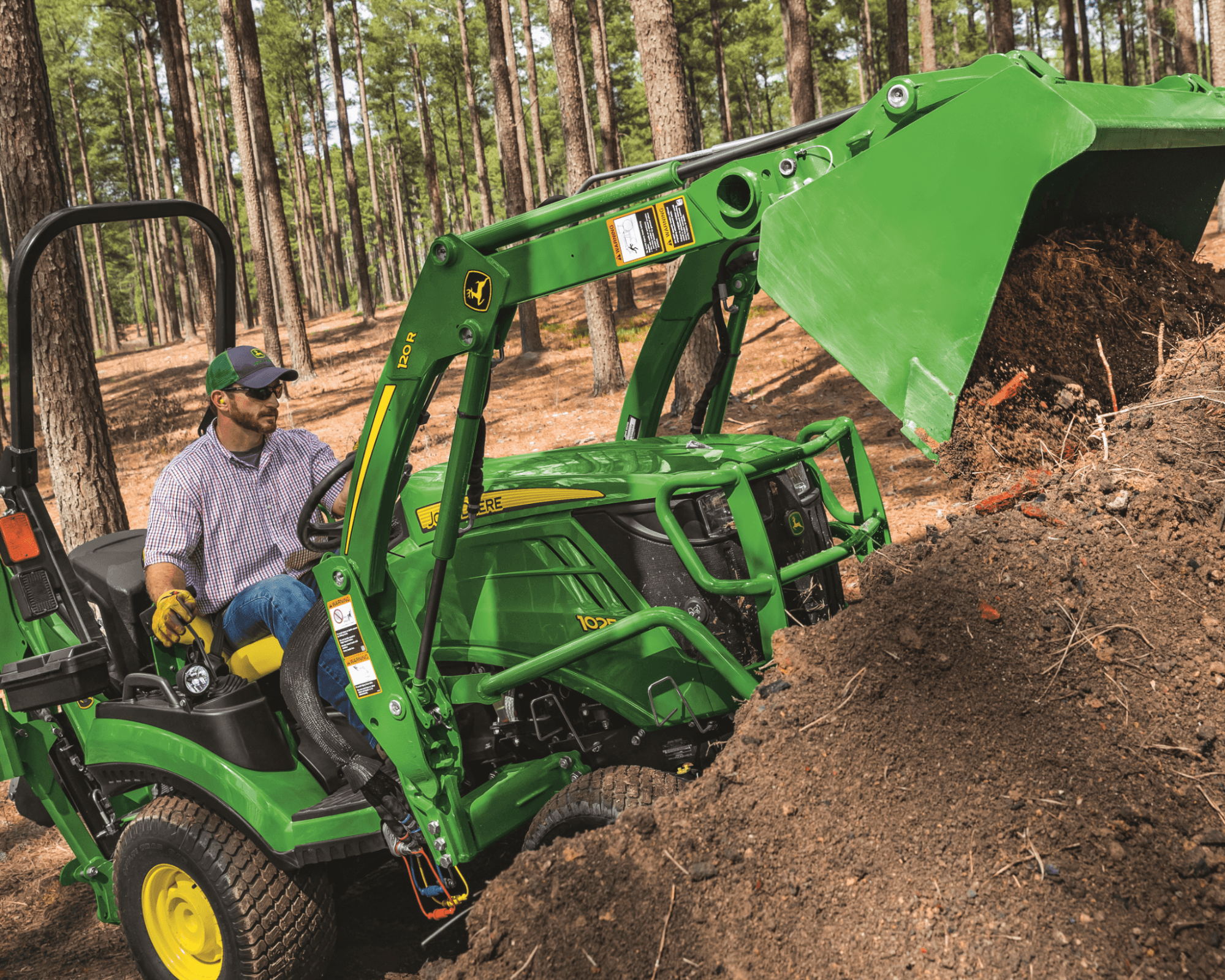 Let's face the facts. How does the 1025R hold up to the competition?
John Deere 1025R vs. Mahindra eMax
While the John Deere 1025R and Mahindra eMax seem similar in appearance, there are quite a few differences between these two compact utility tractors. The 1025R offers more convenient hookups, more comfortable operating conditions, and all-around more efficient performance. Here's a closer look at some of the competing features.
| Feature | Mahindra eMax | John Deere 1025R |
| --- | --- | --- |
| 4WD | | |
| Hydrostatic Transmission | | |
| AutoConnect DriveOver Mower Deck | | |
| Tilt Steering | | |
| Rust-Resistant Hood | | |
| Suspension Seat | | |
John Deere 1025R vs. Kubota BX
Another competitor in the 1025R's class is the Kubota BX tractor series. With many of the same available features as the Mahindra tractor, the Kubota tractors also seem to lack in easy implement hookup and wear life. The Kubota also faces less-than-ideal stability and tiring pedal options.
| Feature | Mahindra BX | John Deere 1025R |
| --- | --- | --- |
| 4WD | | |
| Hydrostatic Transmission | | |
| Automatic Mower Deck Hookup | | |
| Rust-Resistant Hood | | |
| Suspension Seat | | |
Let Kibble Equipment Take Care Of You
We get it. There are a ton of dealerships on the market. So what makes Kibble Equipment stand out?
Great Service
As a part of our commitment to you, we offer a premium level of personalized service. From minor or major repairs to annual inspections, our staff is trained to keep your tractor running at peak performance.
Meet Our Service Department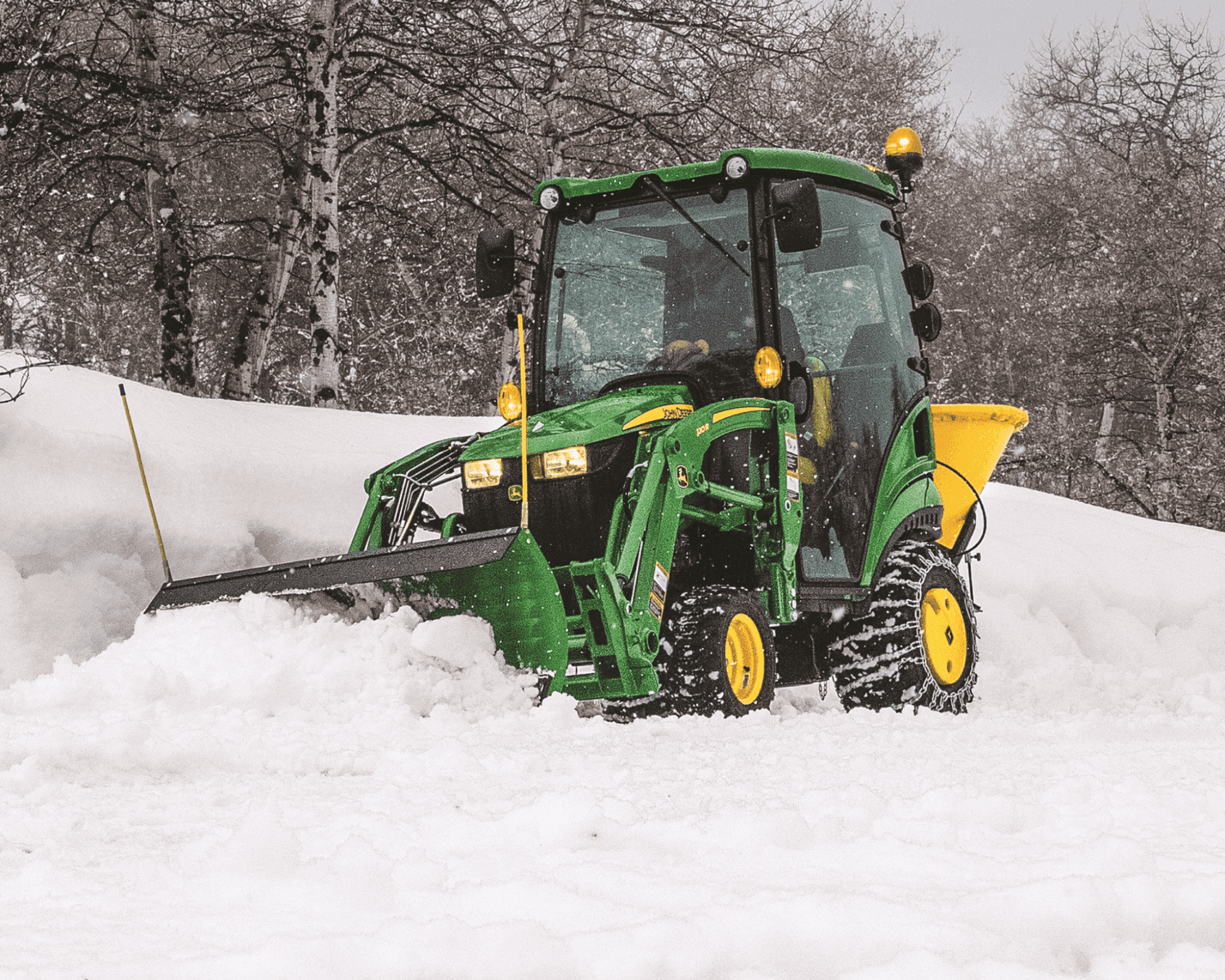 We don't leave you high and dry when it comes to your equipment. At Kibble Equipment, we offer several different parts solutions to ensure your needs are always met with great prices and convenient access. From our online customer portal to our OnSite Parts program, we offer unique services to keep you ahead of the game.
Meet Our Parts Department
With Iowa locations in Northwood and Osage, our team is available to take on your equipment needs. From the moment you ring our phone, we are there to provide you with expert insights, trusted knowledge, and premium solutions.
View Our Locations