John Deere 3 Series Tractor in South Dakota | Kibble Equipment
When there are chores to be done and projects to be tackled you need a tractor that you can rely on to power through the day. Meet our John Deere 3 Series Tractor. These compact tractors are capable of performing several tasks and offer so much convenience you'll barely have to lift a finger. Available in the D, E, and R models, you can choose the one that will best accommodate your needs and match your priorities. Come see us at Kibble Equipment in South Dakota to make the day-to-day tasks on your land simple.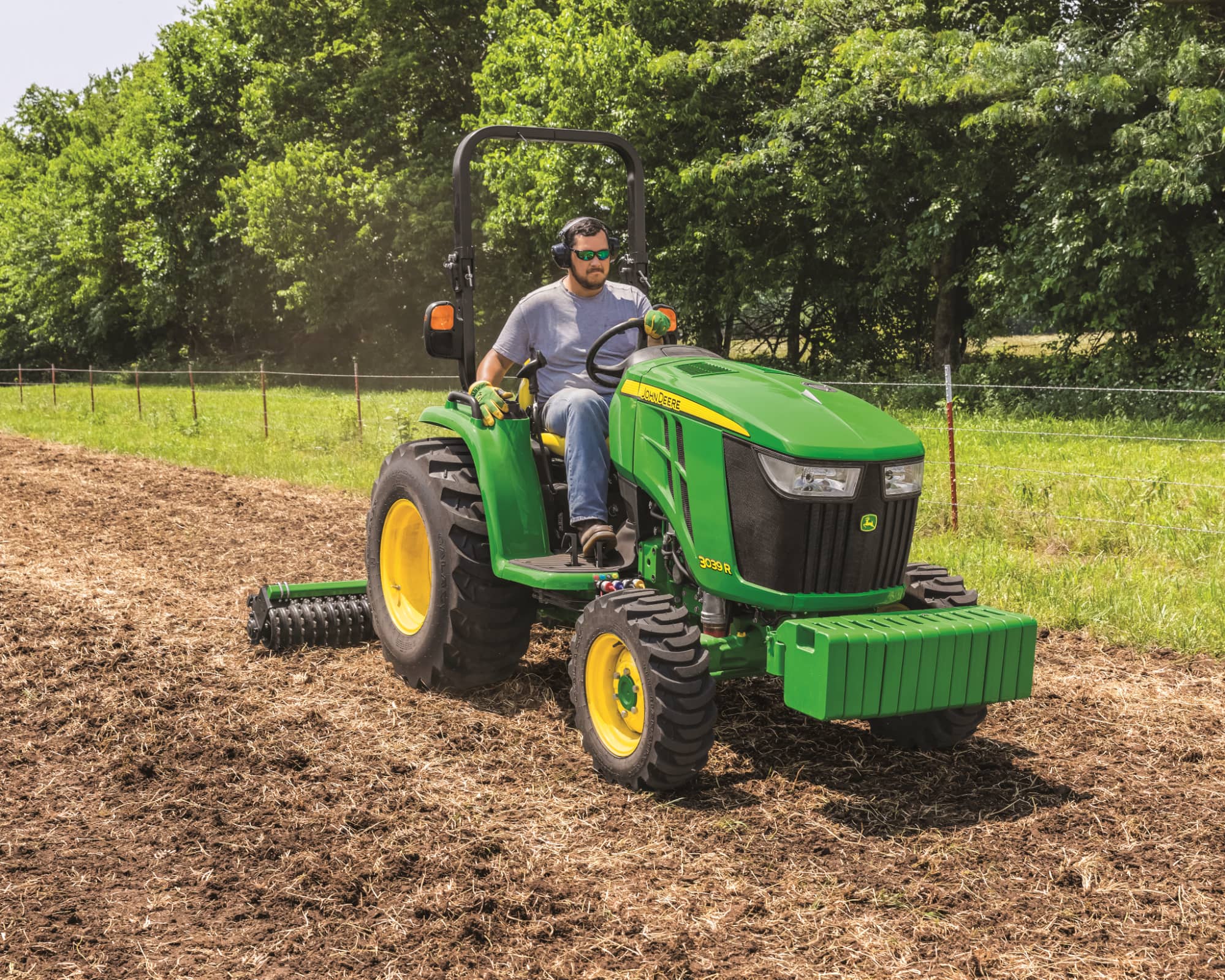 If you are looking for a heavy-hauling tractor...
Our 3D tractors are what you're looking for. The John Deere 3D tractors pack enough power to pull heavy weights like a champ. They have a towing capacity of up to 4409 lbs. Its compact size makes it ideal for working in a range of environments from small farms to large properties. Their abilities don't stop at heavy hauling. With the iMatch Quik Hitch feature and the optional SCVs you can hook up implements to upgrade your productivity as well.
If you are looking for a tractor to give you bang for your buck...
You should check out our 3E tractors. These economical compact tractors give you all the basics you would need in a tractor in a not-so-basic way. Its powerful diesel engine and 4WD make it capable of working in various conditions. Its hydrostatic transmission improves overall performance, allowing the operator to match the speed to the job. Like the 3D tractors, they have an optional two-spool SCV that can curate superior implement performance, making it capable of doing anything from loading, lifting, to tilling. These are ideal for landowners or small farmers who need equipment that can do just enough.
If you want a tractor that goes above and beyond...
Our 3R tractors are for you. These premium compact tractors give you an extra slice of comfort and performance. The eHydro transmission provides excellent maneuverability and productivity, equipped with TwinControl functions for easy forward and reverse operation. The 3R tractors also include the PowrReverser transmission for clutchless shuttle shifting and quick and easy direction changes. While you increase your productivity you can increase your comfort with the optional ComfortGuard Cab to protect you from the elements and have the ultimate user experience.
You can have it all with the John Deere 3 Series tractors. For more information or guidance in selecting the model for you contact us or visit one of our locations and our team of experts can help you. At Kibble Equipment we are dedicated to making sure all our customers have all of their needs met.